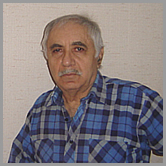 1928 - 2012





This video clip is designed to be viewed with a High Speed, Broadband Internet Connection using Windows Media Player.
Yuriy TerSar (Sarkisov) was born 20 December, 1928;
Graduated from the State Art College in Baku, Azerbaijan, in 1950;
He was admitted as a member of the Soviet Union Society of Artists in 1963
Participated in the Republican Group exhibitions in 1960's-1980's;
One-man shows in Yerevan, Armenia, 1968 and 1973;
Participated in Art Show, Poznan, Poland, 1988;
Participated in Russian Avantgarde show in Helsinki, Finland, 1989;
Participated in Contemporary Russian Art Show, Stuttgart, Germany, 1989;
Emigrated to United States in 1992;
One-man show at the Museum of Fine Art, RISD, Providence, RI, 1994;
Show at Virginia Lynch Gallery, Tiverton, RI, 1994;
Show at Fedulov Gallery, Philadelphia, PA, 1997;
Show at International Gallery, Charlotte, NC, 1997;
Show at Artopia Gallery, Manhattan, NY, 1998;
ART Manege Moscow FAIR 2009, Moscow, Russia, 2009;

M.V. Alpatov, Doctor of Art, Academician: "...Yuriy Sarkisov is a remarkably gifted master. Nature is always the content of his art. His paintings are light like the bright sun of the sea in a light blue mist. They convey the sense of wide-open space and freedom. Sarkisov, as a creator, can transform life into an eternal holiday, and thus bring us joy."

E.I. Vodonos, Honored Art Worker of Russia, he chairs the department of Russian art of the Saratov Radischevsky museum: "Two views on the one Artist: Yuri Sarkisov. Poetics and Stylistics"